2013.05.17 Friday
Our Pets!
Science:
We are watching a very exciting process taking place in the Aquarius Class this month.
Our new class "pets," two tiny caterpillars, are eating lots of leaves as they prepare to transform into butterflies! In science class we are currently studying life cycles: what the phrase "life cycle" means and how it applies to us. Students are learning about some unique life cycles in the animal kingdom such as those of butterflies and frogs.

Our "pets" (named "Blacky" and "Rainbow") are larva of the swallowtail butterfly, and they are growing quickly. Several times a week we feed them leaves from citrus plants like mikan or yuzu trees, a swallowtail favorite. Our pets have a nice cozy container home filled with rocks and soil, which we keep moist by regularly adding water so the environment won't be too dry. As we watch our caterpillars grow, we are recording their changes in our writing journals. We're very excited to watch their metamorphosis in beautiful yellow butterflies!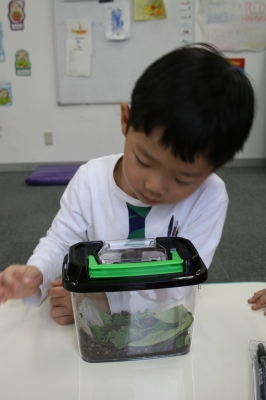 Are they eating the leaves I brought?
"Life Cycle"をテーマに教室で蝶々の幼虫を飼うことになりました。
自分たちで葉っぱを採ってきて育てています。
どんな蝶々になるか、とっても楽しみです。